You're going to work. You're going to the gym. You're taking your kids to the park. You're writing the next great female empowerment novel in your local coffee shop down the street. You're a modern woman, and the only thing in the way of your success is a disorganized, impractical bag. Before investing time into your busy schedule, dedicate just a moment to uncovering a luxury work bag that suits your lifestyle. A high-quality work satchel, purse, or bag will help you reinvent the way you stay organized, providing the ideal space to keep everything you need ready when you're on the go. Here are a few key design elements to look for.
Ideal Luxury Work Satchel Shapes
The shape and structure of your bag matters. It's important to you, and it's relevant to how you plan to use your work bag. You may be searching for a unique shape and structure, depending on when, where, and why you want to use your bag. Check out these three shapes.
Structured, Shape-Holding Bags
Structured bags that maintain their shape are a staple in the professional world for men and women alike. However, women never have to settle for bland briefcases or purses too small to carry all their items. Amply sized work satchels can be stunning works of functional and fashionable art, whether you take them to work at the office or on a trip to the grocery store on the weekend.
Convertible, Commuter-Focused Purses
While any luxury bag could have a longer shoulder strap, commuters are sure to rejoice at the opportunity to use a convertible tote. A convertible backpack tote with reinforced straps is great for walking around town, getting to the third or tenth floor of an office building, or taking your family to the local deli. They're functional, elegant, and easy to carry.
Relaxed, Weather-Resistant Duffles
If you're looking for an elegant work satchel with a sportier look, keep your eyes out for a designer duffle bag. This isn't just a designer label, but a genuine, iconic, luxury bag that looks sophisticated and stylish in any environment. The relaxed shape of a luxury duffle bag is perfect for modern women who prioritize gym time or want to step away from a traditional look. Plus, you might be able to find an option with some handles that lay flat on the bag when you use the shoulder strap, and that's a major win.
Unbeatable Exterior Work Purse Features
When you imagine the exterior of your ideal bag, you might be tempted to focus on its overall look. While that is a crucial aspect of why you choose one bag over another, functional exterior design elements and details should also be a key factor in your decision.
Scratch-Resistant Materials
The materials used to create your bag are crucial to the longevity and the quality of your work satchel. Scratch-resistant materials, such as sustainably manufactured, top grade Italian nylon are an excellent option—they're weather-resistant, easy to clean, and durable. Alternatively, you may enjoy the sleek look of an ethically sourced, full grain Italian leather work satchel. You might have to be a little more careful of scratches on this material, but it will look absolutely fabulous for many, many years to come.
Protective Metal Feet
Have you ever looked at the bottom of your bag and realized that it was dirty, distressed, or just a little bit damaged? Even the highest quality bag might not hold up to being sat, scratched, and scooched across floors and tables. What's the solution? Metal feet on the bottom. This is a design feature that can keep your bag functional and looking great for a long time.
Comfortable, Reinforced Straps
The straps on your work bag play a role in how comfortable you feel while carrying it throughout the day. If you're commuting or traveling with a bag, you don't want to have straps that dig into your shoulders or feel like they aren't up to carrying all your items. For that reason, padded, reinforced straps are a must for work bags and work travel bags. If you're using a designer bag with handles, you have to be able to depend on them to hold your bag in a structured, stylish way.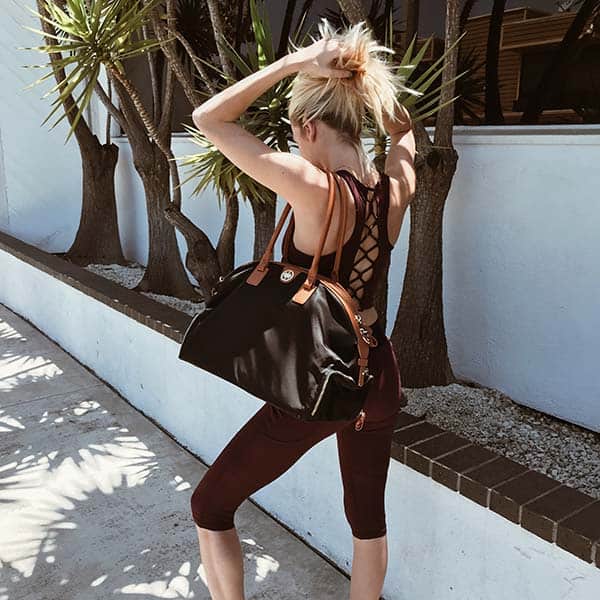 Essential Interior Work Bag Characteristics
After examining the exterior of a work satchel, purse, or bag, you must assess the interior. When you have a busy lifestyle, you want a bag with an interior that caters to your daily needs, at any time of the day.
Spacious Compartments
A spacious interior is a must for a womens designer work bag. No modern woman needs to squeeze all her items into a small bag. Large compartments are perfect for laptops, tablets, and notebooks. If you like visiting a gym or an exercise class before getting to the office, you can also use the spacious interior of a laptop tote bag to store a change of clothes.
Additional Cases, Spaces, Pockets, or Carriers
In addition to the primary spaces in your bag, a bag with additional pockets, detachable cases, or separate compartments is a tremendous asset for your daily routine. Detachable cases can be used on work trips as an alternate purse, pockets can keep cell phones or smaller notebooks in place, and separate compartments and an included washable laundry bag are an excellent place for a spare pair of shoes.
Organizational Factors
Organization is a primary concern when shopping for a modern-day work satchel. Your ideal bag should have storage solutions tailored to your busy lifestyle. Additional pockets are helpful, but you might also look for other organizational elements. These might include a key strap, water bottle pocket, or sunglasses holder. The right designer bag brand will give you plenty of options, so you can be sure to find your perfect piece.
Exceptional Work Satchel Style Details
Finally, there are the most crucial style features of a luxury or designer work satchel—the design elements that help it stand out. It should be clear that the bag you choose is not like other designer bags. They make a statement with elegance and class while still looking like the kind of bag a boss babe can carry pretty much everywhere.
Timeless Accessory Elements
Timeless features of luxury bags include little things like locksets, embossed leather, and collapsible shoulder handles that ensure your convertible bag never looks out of place. Okay, so those elements aren't so little. Yet, they are the details that make people say, "What a unique piece," even when they can't quite put their finger on what makes the bag look so lovely.
Chic Interior Lining
Any work satchel with a statement-making interior lining gets style points. It doesn't have to be anything extravagant, either. If you're drawn to a bag with a classy, black and white-checked interior lining, nobody could ever say you have poor taste. It's sophisticated, understated, and versatile.
Easily Adaptable Appearance
A thoughtfully designed piece will also have a versatile appearance on the exterior. Yes, that means the materials it's made with—but it also goes beyond that. A luxury work satchel or work purse should look right at home in the office, at a coffee shop, when you're strolling through the park, commuting to work, grabbing some drinks with friends during happy hour, and everywhere in between. When a bag can adapt to any setting, you know you've found the perfect daily bag.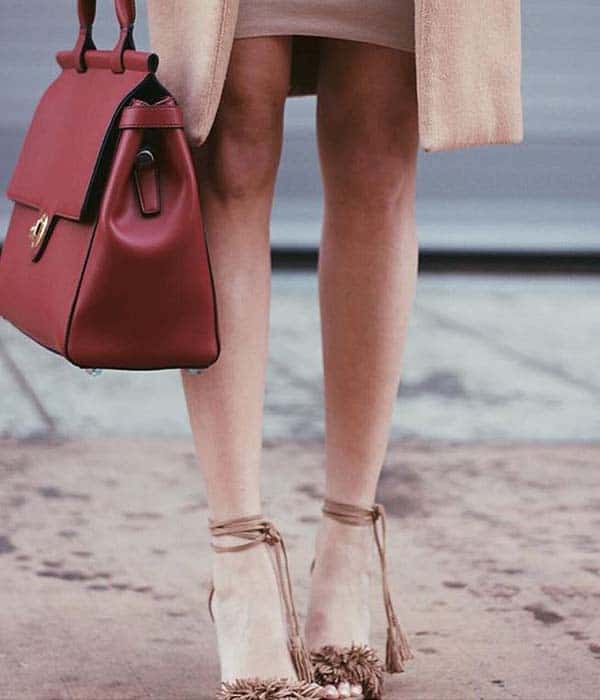 Finding a bag with the ideal shape and construction that suits your personal and professional life doesn't have to be as challenging as you might think. Timeless styles that will continue to look chic and help make daily tasks easier are thoughtfully designed with optimal work bag features. They might have a structured or relaxed silhouette, but they will always have all sorts of practical components too. These might include compartments and pockets, a classy appearance, and an unbeatable design that works just as well for your busy mornings as it does for a casual night out.